Workshop 3
John William Waterhouse: His Painting Method

Instructor: Maestro Michael John Angel
Dates: 29 June – 10 July 2020

One of the most brilliant of the British Victorian painters, John William Waterhouse RA (1849–1917) worked first in the Academic methods and then developed his own very loose, decorative style to portray classical and Arthurian-legend subject matter.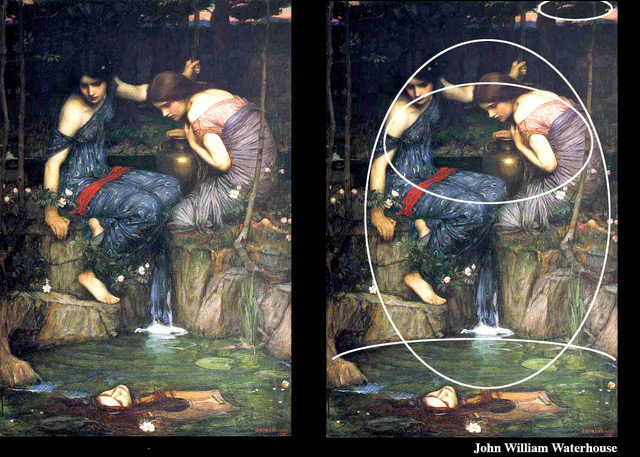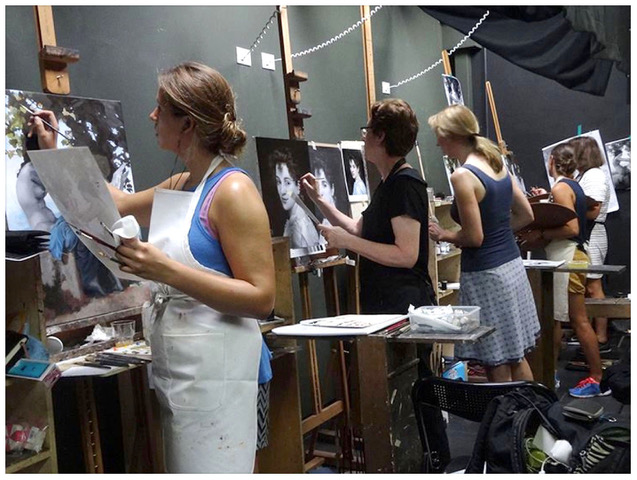 Born in Rome to English parents who were each painters, Waterhouse's family moved to London when Waterhouse was five, and he eventually enroled in the Royal Academy of Art. He soon began focusing on the creation of large canvas works depicting scenes from the daily life and mythology of ancient Rome and of the Arthurian legends. Many of his paintings are based on authors such as Homer, Ovid, Shakespeare, Tennyson and Keats.
In this two-week workshop, you will learn how to emulate Waterhouse's painting methods by re-creating one of his paintings (these are listed below – the student will chose one of these three and reproduce it as a smaller version, about 70cm wide). Copying paintings is the tried and true, traditional way of honing one's painting ability.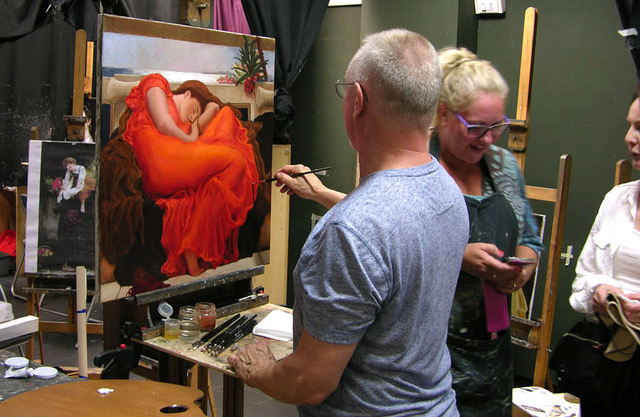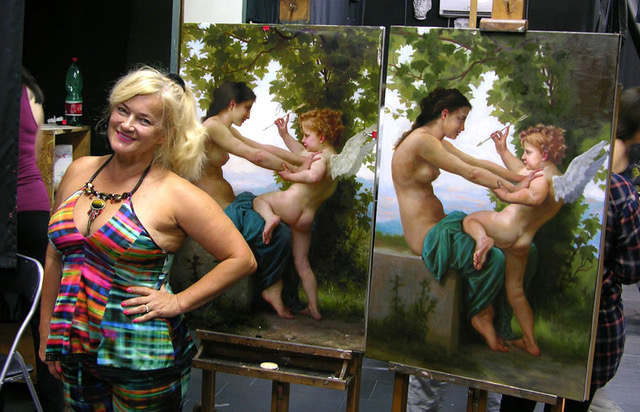 Copying master paintings under instruction is the fastest way to learn, and the surest way for a painter to improve. Maestro Michael John Angel gives several painting demonstrations throughout the two weeks and teaches the class how to stay in control of the drawing while developing the colour.
Students also receive various pdf and jpeg send-outs that encapsulate the correct methods of using oil paint. These send-outs explain the different grounds, materials and mediums used in oil painting and also describe the various layers used in traditional underpainting-overpainting techniques.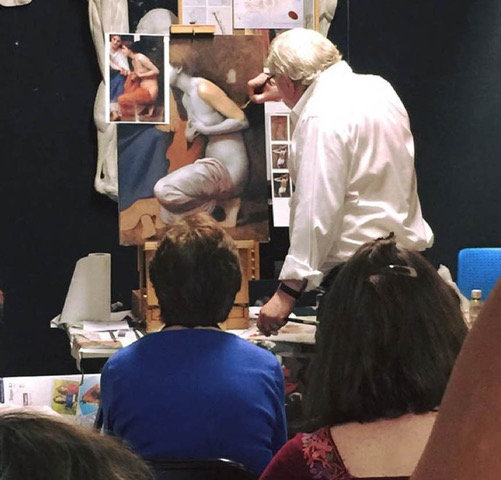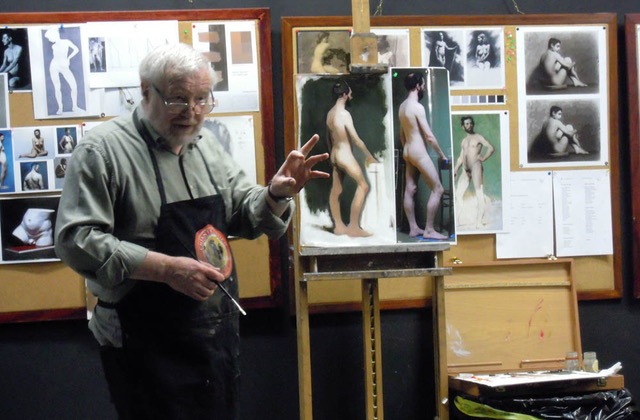 A short biography of Mr Angel can be found on the Angel Academy's website. He is listed in the Art Renewal Center's Living Masters gallery, and has served as a judge for several national and international competitions, including the ARC International Salon competition (four times), the IlluXCon international competition, and the Portrait Society of Canada (three times). He has also served as judge for la Collection Beaux-Arts Réaliste, 2014.
Gallery of Workshop Images
Please choose which image you would like to copy in your workshop application so that we may supply you with a reproduction of this work.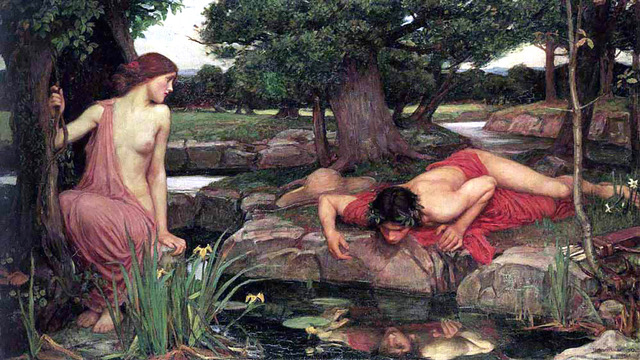 EARLY RESERVATIONS ARE RECOMMENDED, AS STUDENT NUMBERS ARE PURPOSELY LIMITED TO ALLOW FOR A HIGH DEGREE OF INDIVIDUAL ATTENTION.
WORKSHOP FEE: €2300.00EUROS
(THE COST OF SOME OF THE MATERIALS ARE INCLUDED IN THIS PRICE – OTHER MATERIALS, HOWEVER, ARE TO BE PROVIDED BY THE STUDENT. A MATERIALS LIST WILL BE PROVIDED ON REGISTRATION).
THE FEE INCLUDES 10-DAYS TUITION.THE COURSE INVOLVES 50 HOURS OF FULL INSTRUCTION, TOGETHER WITH LECTURES.
CLASS TIMES: MONDAY TO FRIDAY 09.30 – 12.30 AND 13.30 – 15.30
NOT INCLUDED ARE: ACCOMMODATION, AIRFARES, TRANSPORT AND ALL OTHER EXPENSES
RESERVATION & REGISTRATION: IN ORDER TO RESERVE YOUR PLACE IN OUR SUMMER WORKSHOP PROGRAMME 2020, WE WILL ASK YOU TO REMIT A NON-REFUNDABLE/NON-TRANSFERABLE DEPOSIT IN THE AMOUNT OF EUROS 1000.00 FOR EACH WORKSHOP 1, 3,&4 AND EUROS 500.00 FOR WORKSHOP 2.
PLEASE CONTACT US FOR THE DETAILS FOR MAKING YOUR DEPOSIT / PAYMENTS (NON-TRANSFERABLE/NON-REFUNDABLE). WE CANNOT CONFIRM YOUR REGISTRATION UNTIL YOUR DEPOSIT HAS BEEN RECEIVED.
PLEASE NOTE THAT THERE WILL BE A TRANSFER FEE OF €20.00 EUROS ADDED FOR ALL TRANSACTIONS.
FOR REGISTRATIONS FOR ALL WORKSHOPS AFTER 1ST MAY 2020 THE NON-REFUNDABLE/NON-TRANSFERABLE FULL FEE IS REQUESTED AT THE TIME OF REGISTRATION.
FINAL PAYMENT: THE NON-REFUNDABLE/NON-TRANSFERABLE BALANCE FOR ALL WORKSHOPS MUST BE RECEIVED BY 1ST MAY 2020. PLEASE CONTACT US BY EMAIL FOR PAYMENT DETAILS AT: INFO@ANGELACADEMYOFART.COM
MINIMUM ENROLMENT REQUIREMENT FOR WORKSHOPS 1-4 IS 5 PARTICIPANTS.
PARTICIPANTS IN ALL WORKSHOPS WILL BE NOTIFIED IF THIS NUMBER IS NOT REACHED BY 1ST  MAY 2020. AT THAT TIME, THEY WILL BE GIVEN THE CHOICE OF EITHER ENROLING IN ANOTHER WORKSHOP, AVAILABILITY PERMITTING, OR HAVING THEIR DEPOSIT REFUNDED.
PARTICIPANTS IN WORKSHOPS 1-4 MAY CONTINUE TO APPLY UP TO 1ST  JUNE 2020 AND AFTER THAT TIME SUBJECT TO AVAILABILITY..
CANCELLATION POLICY: NO REFUNDS ON ANY WORKSHOPS WILL BE GIVEN FOR WHATEVER REASON. ANY DEPOSITS/FEES PAID ARE NON-TRANSFERABLE/NON-REFUNDABLE.
CONDITIONS: A FULL REFUND WILL BE GIVEN IN THE EVENT THAT THE ANGEL ACADEMY SHOULD, FOR WHATEVER REASON, NEED TO CANCEL THE COURSE.
THE ANGEL ACADEMY OF ART RESERVES THE RIGHT TO SUBSTITUTE INSTRUCTORS OF ANY WORKSHOP AT THE LAST MINUTE OR DURING THE SESSION.
IN THE EVENT OF THE CANCELLATION OF ANY OF THE ABOVE WORKSHOPS FOR REASONS BEYOND OUR CONTROL, WE STRONGLY ADVISE PARTICIPANTS TO ACQUIRE TRAVEL INSURANCE THAT COVERS THE LOSS OF ANY AMOUNTS PAID FOR AIRFARE AND ACCOMMODATION.
SHOULD YOU REQUIRE INFORMATION ON ACCOMMODATION IN FLORENCE WE HAVE A LIST AVAILABLE OF SMALL HOTELS WHICH ARE IN WALKING DISTANCE OF THE SCHOOL. ALTERNATIVELY SHOULD YOU PREFER TO RENT OR SHARE AN APARTMENT WE HAVE AN AGENT FOR THE SCHOOL WHO WILL BE PLEASED TO ASSIST YOU. THIS INFORMATION WILL BE SENT OUT ONCE YOU HAVE ENROLED IN ANY OR ALL OF THE WORKSHOPS.