Workshop 3
Learning from Bouguereau

Instructor: Jered Woznicki
3 July – 14 July 2023 | 60 hours
William Bouguereau (1825-1905) was one of the preeminent painters of the 19th century. Among academic artists of his generation, his ability to create vividly realistic, flawless figures established his reputation in the top echelon of artists devoted to the presentation of the human form.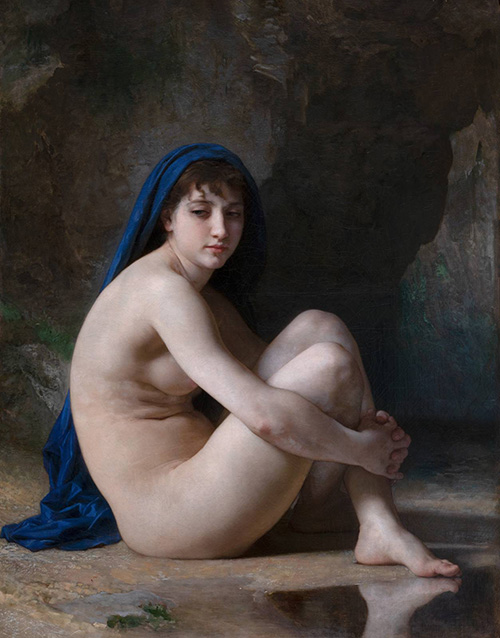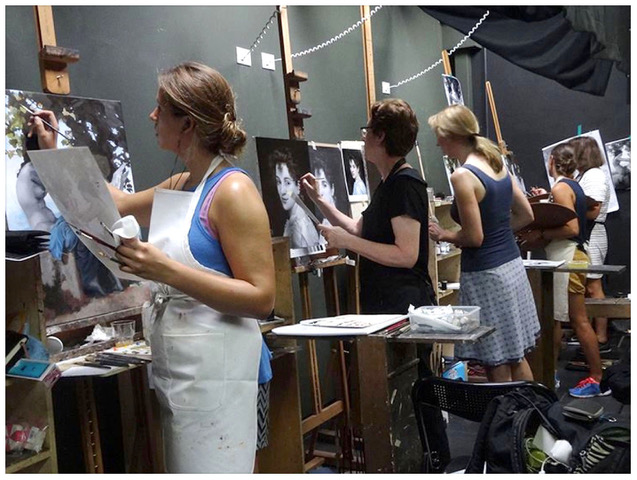 In this two-week workshop, students will be guided by Angel Academy's senior instructor, Jered Woznicki, through the stages of the painting process in the recreation of one of Bouguereau's iconic nudes. The aim of this workshop is to discover how this Master utilized the techniques and artistic conceptions at his disposal in order to create his breathtaking paintings and how contemporary painters can profit from an understanding of Bouguereau's work in order to increase the impact, breadth and subtlety of one's own creations from the live model.
Numerous hi-res images (printed to scale) will be provided to each student to facilitate this in-depth study of the Master's work.
*Note: This is an advanced course. It is recommended that applicants have some experience with drawing and oil paint.
.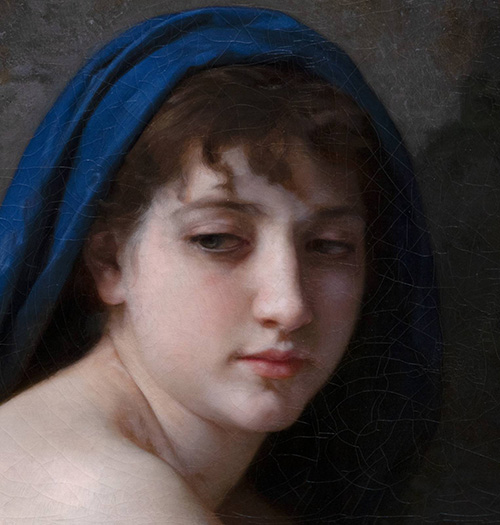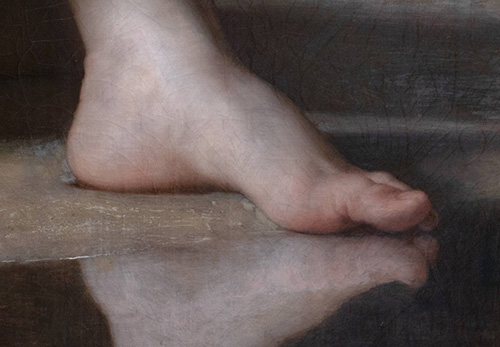 Students will receive various pdf and jpeg send-outs that encapsulate the correct methods of using oil paint. These send-outs explain the different grounds, materials and mediums used in oil painting and also describe the various layers used in traditional underpainting-overpainting techniques.
EARLY RESERVATIONS ARE RECOMMENDED, AS STUDENT NUMBERS ARE PURPOSELY LIMITED TO ALLOW FOR A HIGH DEGREE OF INDIVIDUAL ATTENTION.
WORKSHOP FEE: €2100.00EUROS
(THE COST OF SOME OF THE MATERIALS ARE INCLUDED IN THIS PRICE – OTHER MATERIALS, HOWEVER, ARE TO BE PROVIDED BY THE STUDENT. A MATERIALS LIST WILL BE PROVIDED ON REGISTRATION).
THE FEE INCLUDES 10-DAYS TUITION. THE COURSE INVOLVES 60 HOURS OF FULL INSTRUCTION, TOGETHER WITH LECTURES.
CLASS TIMES: MONDAY TO FRIDAY 09.30 – 12.30 AND 13.30 – 16.30
NOT INCLUDED ARE: ACCOMMODATION, AIRFARES, TRANSPORT AND ALL OTHER EXPENSES
RESERVATION & REGISTRATION: IN ORDER TO RESERVE YOUR PLACE IN OUR SUMMER WORKSHOP PROGRAMME 2023, WE WILL ASK YOU TO REMIT A NON-REFUNDABLE/NON-TRANSFERABLE DEPOSIT IN THE AMOUNT OF EUROS 1000.00 FOR EACH WORKSHOP 2, 3, 4 & 5 AND EUROS 500.00 FOR WORKSHOP 1.
PLEASE CONTACT US FOR THE DETAILS FOR MAKING YOUR DEPOSIT / PAYMENTS (NON-TRANSFERABLE/NON-REFUNDABLE). WE CANNOT CONFIRM YOUR REGISTRATION UNTIL YOUR DEPOSIT HAS BEEN RECEIVED.
PLEASE NOTE THAT THERE WILL BE A TRANSFER FEE OF €20.00 EUROS ADDED FOR ALL TRANSACTIONS.
FOR REGISTRATIONS FOR WORKSHOP 1 AFTER 1ST FEBRUARY AND WORKSHOPS 2, 3, 4 & 5 AFTER 1ST MAY 2023 THE NON-REFUNDABLE/NON-TRANSFERABLE FULL FEE IS REQUESTED AT THE TIME OF REGISTRATION.
FINAL PAYMENT: THE NON-REFUNDABLE/NON-TRANSFERABLE BALANCE FOR WORKSHOP 1 MUST BE RECEIVED BY 1ST FEBRUARY 2023 AND WORKSHOPS 2, 3, 4 & 5 MUST BE RECEIVED BY 1ST MAY 2023. PLEASE CONTACT US BY EMAIL FOR PAYMENT DETAILS AT: INFO@ANGELACADEMYOFART.COM
MINIMUM ENROLLMENT REQUIREMENT FOR WORKSHOPS IS 1-4 IS 9 PARTICIPANTS AND WORKSHOP 5 IS 8 PARTICIPANTS. MAXIMUM PARTICIPANTS FOR WORKSHOP 3 is 20 PARTICIPANTS.
PARTICIPANTS IN WORKSHOPS 1 WILL BE NOTIFIED IF THIS NUMBER IS NOT REACHED BY 2ND FEBRUARY 2023 AND FOR WORKSHOPS 2, 3, 4 & 5 AFTER 2ND OF MAY 2023. AT THAT TIME, THEY WILL BE GIVEN THE CHOICE OF EITHER ENROLLING IN ANOTHER WORKSHOP, AVAILABILITY PERMITTING, OR HAVING THEIR DEPOSIT REFUNDED.
PARTICIPANTS IN WORKSHOPS 2, 3, 4 & 5 MAY CONTINUE TO APPLY UP TO 1ST  JUNE 2023 AND AFTER THAT TIME SUBJECT TO AVAILABILITY.
CANCELLATION POLICY: NO REFUNDS ON ANY WORKSHOPS WILL BE GIVEN FOR WHATEVER REASON.ANY DEPOSITS/FEES PAID ARE NON-TRANSFERABLE/NON-REFUNDABLE. IN CASE OF POSTPONEMENT/ CANCELLATION OF ANY OF THE ABOVE WORKSHOPS, A VOUCHER WILL BE ISSUED FOR FUTURE USE.
THE ANGEL ACADEMY OF ART RESERVES THE RIGHT TO SUBSTITUTE INSTRUCTORS OF ANY WORKSHOP AT THE LAST MINUTE OR DURING THE SESSION.
IN THE EVENT OF THE POSTPONEMENT/CANCELLATION OF ANY OF THE ABOVE WORKSHOPS FOR REASONS BEYOND OUR CONTROL, WE STRONGLY ADVISE PARTICIPANTS TO ACQUIRE TRAVEL INSURANCE THAT COVERS THE LOSS OF ANY AMOUNTS PAID FOR AIRFARE AND ACCOMMODATION.
SHOULD YOU REQUIRE INFORMATION ON ACCOMMODATION IN FLORENCE WE HAVE A LIST AVAILABLE OF SMALL HOTELS WHICH ARE IN WALKING DISTANCE OF THE SCHOOL. ALTERNATIVELY SHOULD YOU PREFER TO RENT OR SHARE AN APARTMENT WE HAVE AN AGENT FOR THE SCHOOL WHO WILL BE PLEASED TO ASSIST YOU. THIS INFORMATION WILL BE SENT OUT ONCE YOU HAVE ENROLED IN ANY OR ALL OF THE WORKSHOPS.