Pictorial Composition with Maestro Michael John Angel
INSTRUCTOR: MAESTRO MICHAEL JOHN ANGEL
DATES: JULY 17-28, 2023
Accurate drawing is important to the Realist painter, but it is Pictorial Composition that makes a painting express the artist's ideas.
This two-week on-line course deals with line and mass composition in the first week (five 5-hour days), and with colour composition in the second week (five 5-hour days). On-line is the perfect way to study composition as it gives the instructor the opportunity to conjure and display dozens of examples to illustrate any point as the needs arise.
Line and Mass explores the basics of such compositional principles as balance, flow-through lines, interval and massing, while Colour Composition explores value schemes, hue schemes and field colour (aka Mother Colour).
Maestro Michael John Angel was one of the highest paid portrait painters in North America for several decades because of his firm understanding of the fine art of painting the portrait. A biography of the maestro can be seen on the Angel Academy website (https://angelacademyofart.com/the-maestro/), and on the Art Renewal Center's site (https://www.artrenewal.org/Artist/Index/1229) in which he is classified as a Living Master.
Mr. Angel has served as a judge for several national and international competitions, including the ARC International Salon competition (five times), the IlluXCon international competition, and the Portrait Society of Canada (three times). He also served as judge for la Collection Beaux-Arts Réaliste.
A short biography of Mr. Angel can be found on the Angel Academy's website.
Workshop Testimonials
Immeasurably Rewarding, is how I would describe any workshop you would be lucky enough to attend, taught by Maestro. I have attended many workshops over that last three years with the Maestro, and he is one of the most knowledgeable and nurturing instructors I have ever met. The teaching comes from the heart. He has a very special way of making the environment feel safe for learning. He shares his years of experience not only to help students learn their craft, but become more confident artists. The Angel Art Academy provides amazing workshops with outstanding instructors. I would strongly recommend.

SANDRA PAZ
Composition classes that I took with Maestro Michael John Angel helped me so much with understanding how to analyze, prepare and process the information for successful picture making whether it is multi figure, still life, portrait or landscape. I started to understand the process and see it from his perspective of a master who has an experience and many successful professional accomplishments.


I took many courses before including academic atelier training from 2 academies in a past but have to say that his curriculum, examples and structure of the course is so much more geared towards making you a professional artist with the best skills set possible out there. His approach in teaching discipline of composition both drawing and painting is the best you will find. It is a great honour to become his student and the knowledge that he shares with you is treasure for any Artist who is planning to become and consider themselves professional.

LILIYA MUGLIA
I have been studying the practice of painting and drawing full time and part time for 3 decades. Maestro's classes through the Angel Academy are the very best that I have ever taken. The classes are recorded on zoom as well as Maestro's demos which are a great advantage. The recordings are sent to students to review. Students send in their work via email for critiques.

Other Academies focus primarily on rendering and offer very little in the way of advanced, difficult aspects of painting such as a deeper dive into composition. The composition classes teach artists more than compositional templates and Euclidian geometry. Maestro teaches very practical skills which can be applied directly to artists own personal work. The color composition class has also been immensely beneficial as I have learned much more than I have learned from the several color wheel theory classes that are available. I plan my color compositions much differently now than I have in the past, as I have a much greater understanding of how it applies to painting. These classes have helped me to compose a complex commission and happily satisfy my client.

ANGELA MUELLERS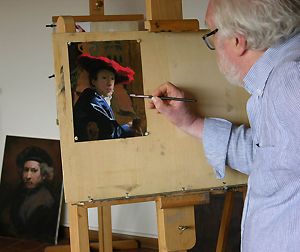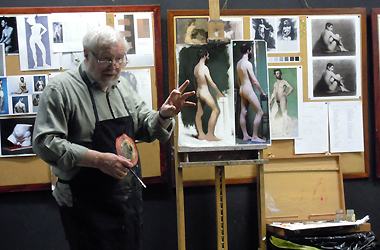 EARLY RESERVATIONS ARE RECOMMENDED, AS STUDENT NUMBERS ARE PURPOSELY LIMITED TO ALLOW FOR A HIGH DEGREE OF INDIVIDUAL ATTENTION.
WORKSHOP FEE: €2300.00EUROS
A MATERIALS LIST WILL BE PROVIDED ON REGISTRATION.
THE FEE INCLUDES 10-DAYS ONLINE TUITION.THE COURSE INVOLVES 50 HOURS OF FULL ONLINE INSTRUCTION, TOGETHER WITH LECTURES.
CLASS TIMES: MONDAY TO FRIDAY 15.00 – 20:.00
RESERVATION & REGISTRATION: IN ORDER TO RESERVE YOUR PLACE IN OUR SUMMER WORKSHOP PROGRAMME 2023, WE WILL ASK YOU TO REMIT A NON-REFUNDABLE/NON-TRANSFERABLE DEPOSIT IN THE AMOUNT OF EUROS 500.00 FOR WORKSHOP 1 AND EUROS 1000.00 FOR EACH WORKSHOP 2, 3, 4 & 5.
PLEASE CONTACT US FOR THE DETAILS FOR MAKING YOUR DEPOSIT / PAYMENTS (NON-TRANSFERABLE/NON-REFUNDABLE). WE CANNOT CONFIRM YOUR REGISTRATION UNTIL YOUR DEPOSIT HAS BEEN RECEIVED.
PLEASE NOTE THAT THERE WILL BE A TRANSFER FEE OF €20.00 EUROS ADDED FOR ALL TRANSACTIONS.
FOR REGISTRATIONS FOR WORKSHOP 1 AFTER 1ST FEBRUARY 2023 (AND WORKSHOPS 2, 3, 4 & 5 AFTER 1ST MAY 2023) THE NON-REFUNDABLE/NON-TRANSFERABLE FULL FEE IS REQUESTED AT THE TIME OF REGISTRATION.
FINAL PAYMENT: THE NON-REFUNDABLE/NON-TRANSFERABLE BALANCE FOR WORKSHOP 1 MUST BE RECEIVED BY 1ST FEBRUARY 2023 (AND WORKSHOPS 2, 3, 4 & 5 MUST BE RECEIVED BY 1ST MAY 2023). PLEASE CONTACT US BY EMAIL FOR PAYMENT DETAILS AT:INFO@ANGELACADEMYOFART.COM
MINIMUM ENROLLMENT REQUIREMENT FOR WORKSHOP 1-4 IS 9 PARTICIPANTS AND WORKSHOP 5 IS 8 PARTICIPANTS.
PARTICIPANTS IN WORKSHOP 1 WILL BE NOTIFIED IF THIS NUMBER IS NOT REACHED BY 2ND FEBRUARY 2023 AND FOR WORKSHOPS 2, 3, 4 & 5 AFTER 2ND MAY 2023. AT THAT TIME, THEY WILL BE GIVEN THE CHOICE OF EITHER ENROLLING IN ANOTHER WORKSHOP, AVAILABILITY PERMITTING, OR HAVING THEIR DEPOSIT REFUNDED.
PARTICIPANTS IN WORKSHOPS WORKSHOPS 2, 3, 4 & 5 MAY CONTINUE TO APPLY UP TO 1ST JUNE 2023 AND AFTER THAT TIME SUBJECT TO AVAILABILITY.
CANCELLATION POLICY: NO REFUNDS ON ANY WORKSHOPS WILL BE GIVEN FOR WHATEVER REASON.ANY DEPOSITS/FEES PAID ARE NON-TRANSFERABLE/NON-REFUNDABLE. IN CASE OF POSTPONEMENT/ CANCELLATION OF ANY OF THE ABOVE WORKSHOPS, A VOUCHER WILL BE ISSUED FOR FUTURE USE.
THE ANGEL ACADEMY OF ART RESERVES THE RIGHT TO SUBSTITUTE INSTRUCTORS OF ANY WORKSHOP AT THE LAST MINUTE OR DURING THE SESSION.
IN THE EVENT OF THE CANCELLATION OF ANY OF THE ABOVE WORKSHOPS FOR REASONS BEYOND OUR CONTROL, WE STRONGLY ADVISE PARTICIPANTS TO ACQUIRE TRAVEL INSURANCE THAT COVERS THE LOSS OF ANY AMOUNTS PAID FOR AIRFARE AND ACCOMMODATION.
SHOULD YOU REQUIRE INFORMATION ON ACCOMMODATION IN FLORENCE WE HAVE A LIST AVAILABLE OF SMALL HOTELS WHICH ARE IN WALKING DISTANCE OF THE SCHOOL. ALTERNATIVELY SHOULD YOU PREFER TO RENT OR SHARE AN APARTMENT WE HAVE AN AGENT FOR THE SCHOOL WHO WILL BE PLEASED TO ASSIST YOU. THIS INFORMATION WILL BE SENT OUT ONCE YOU HAVE ENROLLED IN ANY OR ALL OF THE WORKSHOPS.