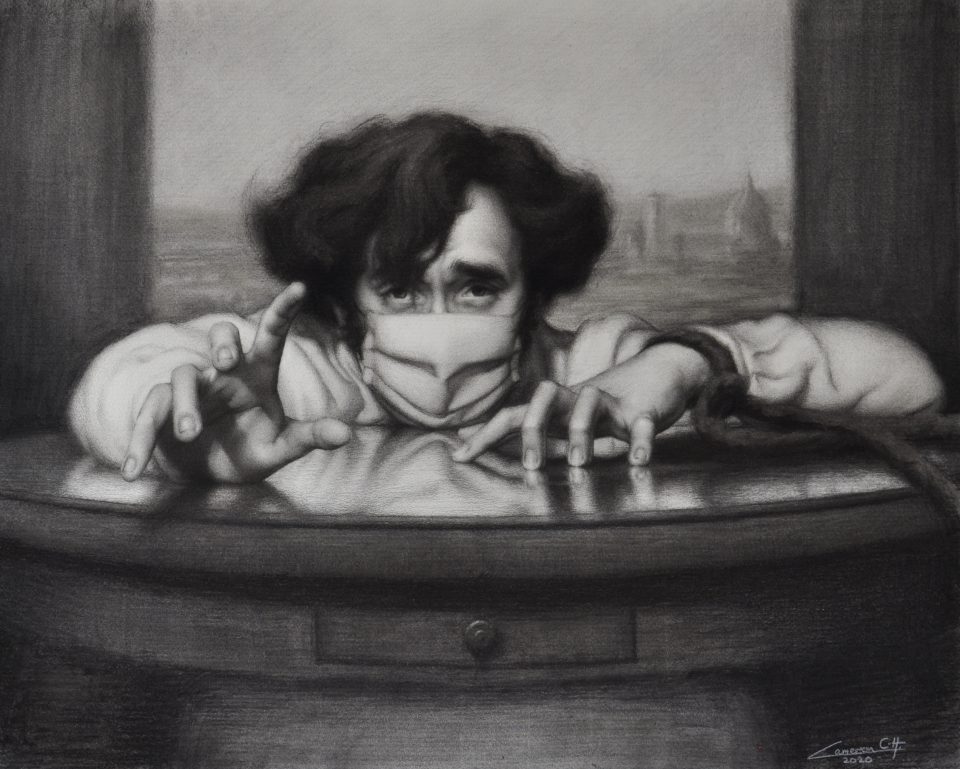 Today's article features Cameron Copley-Heissig, a current student at the Angel Academy of Art, Florence. We are thrilled that he has won 3rd place in the Teens Category at the 15th ARC Salon. Cameron has been gracious enough to answer a few of our questions and elaborate on his life and work.
Bio: Cameron Copley-Heissig is a German-English artist born on 9th September 2000 in Munich, Germany. From a very early age he was exposed to the arts. With a ballet dancer mother and an opera choir singer father, he literally grew up in the theatre world. From the ages of 7 to 16 he studied at the Aton-Schule, a reform pedagogical school that focuses on music and creativity. There, he developed his love for art and drawing under his art teacher, Sabine Bitterlich. In later years, he began experimenting with oil paint.

In 2016, he had his first solo exhibition at PROBEZEIT in Munich. The following year, he participated in the exhibition of the H-Team ev. for the competition "Armut und Recht" ("Poverty and Right") in Munich. In 2017, he was accepted into the Berufsfachschule für Bildende Kunst München (Professional and Continued Education School for the Fine Arts Munich). There, he was taught by the graphic designer and artist, Hubert Franz Schweitzer; the illustrator and comic artist, Gerhard Schlegel; and illustrator, production and fashion designer, and storyboard artist, Petra Margot Hastreiter. While there, he took part in the school exhibition "Bilder gegen Gewalt" ("Pictures against Violence"), 2017 and 2018. Furthermore, one of his paintings was exhibited at the "Sudetendeutsche Messe", 2018 in Augsburg. He graduated in 2019 and received a diploma in independent artistic work as an "Independent Artist".

Since September 2019, he has been studying at the Angel Academy of Art in Florence. His teachers are: Michael John Angle, Jered Woznicki, Giulia Bucciarelli, Davide Barbini and Ashish Kumar Patel.

Statement from Cameron Copley-Heissig on https://www.artrenewal.org/15thARCSalon/Artwork/ByCategory/46527On March 9th, 2020 the government of Italy declared a national lockdown. I was stuck in Florence and there was no way out. At the time I thought my school which had closed one week before would reopen again after a bit. We students, constantly, week after week, had the hope that everything would go back to normal soon so we could continue our studies, but we all were mistaken. Eight very long weeks passed before we were allowed to go outside. The slight hope that school would reopen again had already died. But I still had to wait another 48 days until I was able to find a way back home. I have to thank Giovanna and Piero who took care of me and I am so grateful for everything they have done for me in these difficult times. Without them, I couldn't have dealt with the situation.

Interview:
1. In your statement, you implied that the piece was largely inspired by the Italian government ordering a lockdown in the spring of 2020 and the subsequent closure of all schools in Italy, and the Angel Academy of Art. Were there any other influences to the making of this piece or themes that you wanted to explore?
Because of not being able to go outside during the Lockdown, the thought of isolation became bigger and bigger. To explore my thoughts and ideas I made a lot of thumbnail sketches to explore the theme on paper.I had waited two years to be able to study in the city of my dreams and then after five months of studying in Florence my dream was taken away from me and I had to stay inside, locked away from the outer world.
2. Could you explain your choice of materials and some of the techniques that went into the creation of this amazing piece?
I applied the techniques and knowledge which I have learned at the Angel Academy of Art. The charcoal I used was from the brand Nitram Charcoal which is very high quality charcoal which you can sharpen very thinly and pointy without breaking. With this I was able to make smooth transitions. For the darkest parts of the shadows I put into use the black rembrandt soft pastel which is far darker than the charcoal. The drawing is done on Roma paper which is an exceptional, hand crafted paper from the company Fabriano. Tools like bristle brushes and sponges helped me to create the piece.
3. What do you hope or intend for the viewer to take away from this artwork?
I would like people to remember how challenging those months were, not only for me but for every single one of us on this planet.
4. In these unstable times, will your response to the world around you continue to serve as an inspiration for your artwork? If so, will "Lockdown" be the first in a series?
I personally spend a lot of time with this topic and completed it with the finishing of this work. There are so many topics I want to explore and to discover for myself. For now it is the only one, but who knows what the future will hold.
5. Can you comment on other projects that we can expect to see from you in the future?
I have a lot of ideas for projects I want to develop and paint after I am finished with the course at the Angel academy of Art, but for now I want to keep them for myself.

Thankyou Cameron, for your thoughtful replies! To follow Cameron's career and to keep up to date on his latest works, please follow him on Instagram @cameron_copleyheissig
Cameron was interviewed by fellow Angel Academy student Rina Kim.